Funnels & Flows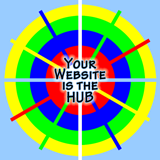 Just as your website is the hub of your online web presence, Landing Pages are the spokes in the wheel, designed to welcome and receive the visitors being funnelled from other sites (including the search engines!) and mediums.
Your online funnels could be SER (Search Engine Results), an email, Social Media, your newsletters, blogs, YouTube!, directory sites, maps, review sites, news stories, ads, articles...

Let us help you use YOUR Website AND OTHER Websites to YOUR ADVANTAGE!
Search Engine Marketing (SEM)
Site Map,

Search Engine Submission $250-$450

(XML included in McDel's Web Design Specials)

- xml, html, and visual options

SEO/Keyword Research Report

- $199

SEO/Keyword Check-up

/ Keyword Research + Benchmark Report $500-$1500

SEO/Keyword Follow-up Reports with Page Content Updates,

(after Benchmark Report) $500 per report - (You choose > weekly, semi-monthly, monthly, etc.)

Includes SEO copywriting,
web page updates/optimization

(you must allow us ftp access, app/software update access, and/or control panel access to website for updates if McDel is not your web hosting provider),

meta-tag programming,
incorporated visuals

3 checks, 3 search engines, 10 terms

Site Content Audit Report

> aka Website Analysis > from $899

Boost search rankings and conversions (and ROI!) by finding gaps, opportunities
Includes SEO / Keyword Research / Benchmark Report
Includes stats analysis