Managing Your Website and Online Presence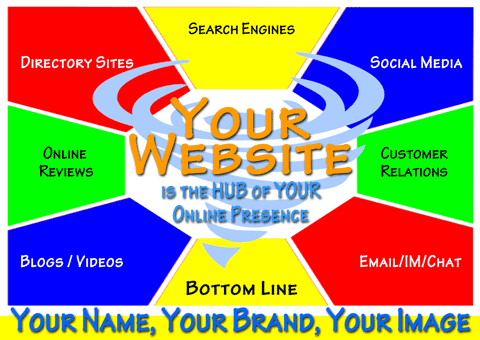 Control Your Online Info!
The initial step is to assess your starting point and current resources, for both your Online Presence and your Website. Using your website as the hub, you'll be able to leverage the benefits of various platforms to accomplish your website goals.
What you want your website to accomplish,
Who your target audience is, and
What you are offering (goods, services, education, entertainment, etc.) will determine the track(s) you need to take.
Website Strategic Planning Reports
Website Quick Review & Analysis > $79
Content Marketing Strategy Report > $79

Website Design & Development Strategic Plan

- from $299

content strategy: goals, target audience, theme, messages, topics, purpose per page, CTAs
assess content needed: copywriting, images, graphics, audio/video
design, style, image, voice
type/functionality: purpose of site, interactive features, forms needed, delivery of feedback, additional resources
site stucture: site map, navigation, flow, cross-links, CTAs
SEO strategy, purpose per page
legal: privacy and security policies, copyright, trademarks, terms of use, personal/financial data collected
technical: domain name, hosting, building, updating, integrating

Content Gap Analysis

- $199

content strategy: goals, target audience, theme, messages, topics, purpose per page
content types : landing pages, resources, interactive features, forms needed, CTAs

Site Content Audit Report

- aka

Website Analysis

- from $899

SEO/Keyword Research Report

- $199

purpose per page, competitive analysis, volume

SEO Check-up Keyword Research + Benchmark Report

- $500-$1500

depends on number of pages and keyword search terms
Proactive Website Management
After your website is up and running, you'll want to take proactive steps to make your website work for you.
Along with posting regular updates, you'll want to monitor what's working and what's not working on your site.
View Website Content Update Plans
Basic Website Stats Reports**
Several website statistics reports are available which can help you analyze the traffic you're getting and which ad campaigns, referring sites, and/or platforms are most successful.
AWStats and Webalizer stats programs are included with all MP Web Deluxe & Web Power Hosting accounts, and DIY Hosting.
Stats - Auto-responder reports

- $49

*Stats - Basic Web Overview Report

- $39

AWStats monthly summary, missing files, broken links, incoming links

*Stats - Monitor & Manage Report

- $99

Basic Overview Report + host origin + pages visited + top downloads

*Stats - Search Report

- $129

Monitor & Manage Report + top entry/exit pages + keywords/phrases search term

Stats Analysis Report

- $179
*Print these stats reports from your McDel web admin control panel if you want to DIY.
**Rates listed for Website Stats are utilizing McDel Web Hosting and Domain Registration Services. If these services are provided by other companies, website management that include stats will be quoted on a per project basis. AWStats and Webalizer included with all McDel Website Hosting accounts.

Monitoring and Managing YOUR Website...
Who's watching your website?
Clients? Prospects? Competitors? Hackers? Board Spammers? E-mail Spoofers?
Do you know how many visitors you have? Where they live? How they found you? How long they stay on your website?
Do you know which search engines are crawling your site? Or what companies are linking to your website?
Depending on the type of web site you have and the information you collect, you may be legally responsible for more than you think.
More info about managing privacy & security.
Who is Managing Your Online Presence?
Have you "claimed" your listings?
Is your info current and do you have reciprocal links set-up on all your directory and search engine listings, social media profiles and association member sites?
Have you read the online reviews about your business? Have you responded to them?
Are you ON the MAPs?

Your Online Presence Strategy
Assess ~ Manage ~ Utilize
Create an integrated, cohesive Web/Online Presence by strategically planning and coordinating online marketing and website content resources.
Managing Your Online Presence
Add/"Claim" and/or Edit Directory Listings

, Search Engine Business Listings, Review sites, Industry Referral sites -

(SEO focused integration and company branding)

$75-$250 Initial Listing, $25-$500 per update

Reciprocal Links

- from $50


Association, Membership, Industry site listings

- be sure to include website address on accounts you manage

(and link to organization from your website)

Social sites business page account set-ups

-

(like Facebook, LinkedIn, Twitter, Instagram, Pinterest, YouTube!)

$500/network, $49/hour for profile updates

Social media ads/posts

- $75-$500

campaigns

- $500-$2000

Includes SEO-focused copywriting
branding, graphics, researched hashtags
link to landing page(s)
campaigns include strategy session, posting calendar, social media performance reports

Event Calendars

- add/edit listing - from $25/each

Community Forums/Groups

- request free quote
Banner and/or Pay-Per-Click advertising - request free quote

Media releases

- $250-$500
Online Presence Strategy & Management Reports
Online Presence Strategy Session and Report > $79

Business Listings and Reviews Report

> aka

Assessing Your Online Presence

> $125-$250

Platform reports -

quote per project

Search Engine Reports - Google and Bing
Social Platform Reports - Facebook, Pinterest, Twitter, Instagram

Landing Page - Marketing - "Funnel/Flow" Reports

-

quote per project

Email
Social Media
Newsletters
Blogs
Multimedia Ads