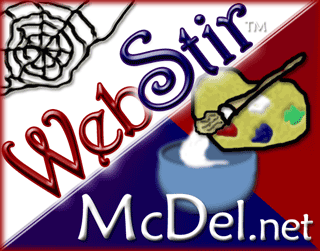 Who/What is the WebStir™?
Hi! I'm Kammy McElwain, one of the owners of McDel Publishing and McDel Gifts & Gear Co.
The WebStir™ is McDel Publishing's website design, development, administration and marketing team.
The WebStir™ Team includes our network of numerous artists, photographers, designers, developers, techies, printers, and craftsmen who are small business owners themselves.
WebStir.McDel is also my facebook page.
I coined the term WebStir™ in 1999 as a play on words...
"Creating a stir on the web" seemed much more attainable than being a "webmaster" or "mastering" the web!
I plunged into learning web design and how the internet worked in 1998 to build a website for our computer training company. By 2000, I had left my "outside job" in sales and advertising, and was working full-time on client projects. Designing, developing, managing, and marketing websites for clients and our own business became my "main position," and still is.
In 2002, we started offering virtual web hosting, SSL, and e-commerce to clients. Always looking for ways to save costs for our small business clients, we added printing services. Wanting more ways for artists to show their designs led to adding the personalized gifts and gear side of our company, which includes business promo products. Using primarily dye-sublimation printing, we can print and press artwork, photos, custom designs, and logos on hundreds of items.
And now "logoed" gear and apparel are everywhere! And "EVERYONE" is online!
"Creating a Stir" and "Mastering the Web" have been my ambition for over 20 years now...
with custom design, SEO, content and interactive web development at the core.
Also at the heart of web content and marketing is copywriting.
With a BA in English, proofreading and editing are "automatic side benefits" when we work on your project.

CREATING, STIRRING and MASTERING will continue to be the objective!
Yes, I LIKE challenges! And I LOVE learning something NEW every day! I'm definitely in the right profession for that opportunity.

Technologies, devices, software, the world-wide-web, and international standards for using it are continuously evolving, AND,
So are the needs of each individual business!