Domain Name Rates
| | | |
| --- | --- | --- |
| # of years | Price | Cost/Year |
| 1 | $25.00 | $25.00 |
| 2 | $35.00 | $17.50 |
| 3 | $48.00 | $16.00 |
| 4 | $64.00 | $16.00 |
| 5 | $75.00 | $15.00 |
| 6 | $90.00 | $15.00 |
| 7 | $105.00 | $15.00 |
| 8 | $120.00 | $15.00 |
| 9 | $135.00 | $15.00 |
Once you (or we) register your domain name, you then need a place to "place to put it." Your domain name "points" to the location of your website, whether the files are located on your web server or you use a website hosting service (like us).
Free domain name registration or renewal with 1-year pre-pay web hosting account.
($15-$25 value!)

Having your own Domain Name is the first step that identifies you and/or your product/service. Although it's a name, it also functions as your address.
You might use your business name, brand name, or a "keyword" that describes your focus.
ex: pets.com
McDel would be like your postmaster in the physical business world.

Guaranteed Listing in Top Search Engines
Free Search Engine Listing with every web hosting account!
Domain Name Registrations
If you know the domain name(s) you want, just tell the WebStir™ and we'll register it (them) for you. You will be the owner of your domain name, not us.
Domain Name Renewals
When renewing a domain name for which we are the registrar, we will notify you at least 30-45 days before your domain name expires, and renew it for you upon approval.
Domain Name Transfers
If you need to renew your domain name and you are currently listed with another registrar, we recommend that you contact us to initiate the transfer at least 45 days before your domain name expires.
If you already have a domain name, there are a few restrictions regarding transfers. For more information, please contact The WebStir™ team. Tell us the domain name(s) in question and in what services you are interested.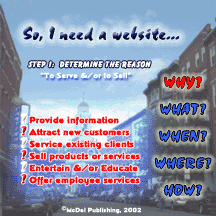 HOW CAN WE HELP YOU?

MOTIVATE potential customers to BUY!
CHEER your customers with more customer service!
DELIGHT yourself with increased profits!!
EXCITE more people about your products/services!
LEARN to compete successfully in The Information Age!
The WebStir™ web development team listens to your needs and custom-designs your website to reflect your goals and promote your company image.