Managing Your Website and Online Presence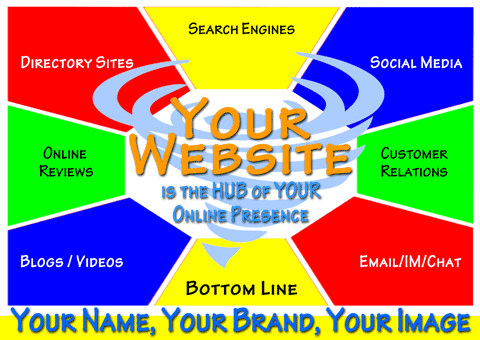 The initial step is to assess your starting point and current resources, for both your Online Presence and your Website. Using your website as the hub, you'll be able to leverage the benefits of various platforms to accomplish your website goals.
What you want your website to accomplish,

Who your target audience is

, and

What you are offering

(goods, services, education, entertainment, etc.) will determine the track(s) you need to take.
Control Your Online Info!
Monitoring and Managing YOUR Website...
Who's watching your website?
Clients? Prospects? Competitors? Hackers? Board Spammers? E-mail Spoofers?
You?
Do you know how many visitors you have? Where they live? How they found you? How long they stay on your website?
Do you know which search engines are crawling your site? Or what companies are linking to your website?
Website Strategic Planning and Evaluation Reports
Website - Content Management Session and Report

> $79

Website - Content Marketing Strategy Session and Report

> $79

SEO Site Audit - Overview

> $199

Site Speed
Technical / Security / Accessibility
UX - Responsive/Mobile-Friendly, Site Structure
SEO - Meta Tags, Keywords, Traffic
Recommendations

SEO Site Audit Comprehensive Report

> $1150, up to 7 pages,
$149 per additional page
Boost search rankings, conversions, and ROI by identifying SEO issues and errors.

SEO Site Audit Overview +
SER - Company Visibility
Pages Indexed, Site Errors, URL Optimization
Structure of Individual Pages - Header Tags, Content on Topic, Word Count, Readability
Keyword Analysis
Internal links
Backlinks
Recommendations

Site Audit - Content Overview

> $249
Home Page 7-point Review, Additional pages > $199 each

Analysis and Recommendations

Site Audit - Comprehensive Content Report

aka Website UX Analysis> $1500 for up to 5 pages, Additional pages > $299 each


Improve UX, search rankings, conversions, and ROI

by analyzing and finding gaps and opportunities in content and CTAs

Site Identity and Company Info
UX assessment - ease of use, readability, mobile-friendly
Content, Design, CTA, and Gap Analysis
Graphics & Video Best Practices
SEO Keyword Research Report
SEO Essentials Evaluation

Website Design & Development Strategic Plan

> from $299


(Included in McDel's Web Design Specials)

type/functionality: purpose of site, interactive features, forms needed, delivery of feedback, additional resources
site stucture: site map, navigation, flow, cross-links, CTAs
content strategy: goals, target audience, themes, messages, topics, purpose per page, CTAs
assess content needed: copywriting, images, graphics, audio/video
design, style, image, voice
SEO strategy, purpose per page
legal: privacy and security policies, copyright, trademarks, terms of use, personal/financial data collected
technical: domain name, hosting, building, updating, integrating
More Reports and Services
SEO Content Management Services
Search Engine Marketing (SEM) Reports and Services
Basic Website Stats Reports**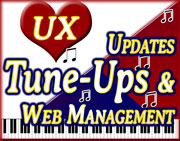 Several website statistics reports are available which can help you analyze the traffic you're getting and which ad campaigns, referring sites, and/or platforms are most successful.
AWStats and Webalizer stats programs are included with all MP Web Deluxe & Web Power Hosting accounts, and DIY Hosting.
*Stats - Basic Web Overview Report

> $49

AWStats monthly summary, missing files, broken links, incoming links

*Stats - Monitor & Manage Report

> $99

Basic Overview Report + host origin + pages visited + top downloads

*Stats - Search Report

> $129

Monitor & Manage Report + top entry/exit pages + keywords/phrases search terms

Stats Analysis Report

> $179
*View these stats reports from your McDel web admin control panel if you want to DIY. AWStats and Webalizer are included with all McDel Website Hosting accounts.
**Rates listed for Website Stats Reports are utilizing McDel Web Hosting Services. If hosting services are provided by another company, website management that include stats will be quoted on a per project basis.
Proactive Website Management
The reports on this page and on the "make your website work for you" page will help you monitor what's working and what's not working on your site.
Posting regular updates is known as Content Management.
View Website Update Plans.

Free 1-hour Initial Consultation for Content Management, Content Marketing or Online Presence Strategy
Who is Managing Your Online Presence?
Have you "claimed" your listings?
Are you ON the MAPs?
Is your info current and do you have reciprocal links set-up on all your directory and search engine listings, social media profiles and association member sites?
Have you read the online reviews about your business? Have you responded to them?

Your Online Presence Strategy
Assess ~ Manage ~ Integrate
Create an integrated, cohesive Online Presence by strategically planning and coordinating online marketing and website content resources.
Online Presence Strategy & Management Reports
Online Presence Strategy Session and Report

> $79

Business Listings and Reviews Report

> aka

Assessing Your Online Presence

> $249

Platform reports

>

quote per project

Search Engine Reports - Google and Bing
Social Platform Reports - Facebook, Pinterest, Twitter, Instagram

Conversion Reports

>

quote per project

Email
Social Media
Newsletters
Blogs
Multimedia Ads
Plan, Design, Develop, Market, Manage...
From planning, to building, to managing and marketing your custom-designed website and integrating it with your online presence, we serve you and your interests every step along the way.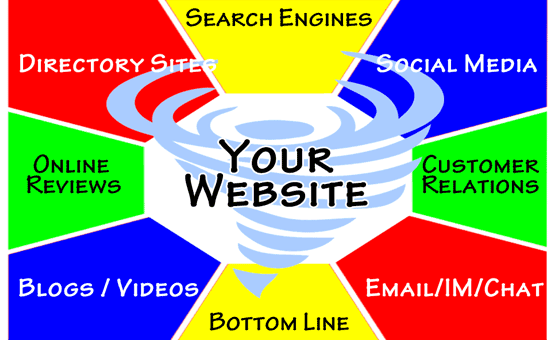 Website, SEO, Content Marketing are
how to integrage your online presence with your website as the Hub of Operations.

Visit the "Bells & Whistles" page to see numerous content resources designed to engage your visitors.
Professional Development and Management of Custom Websites since 2000...

Contact us to delegate any website, content, or online presence tasks to the WebStir™!
Call or text: 970-208-3348