Your Website - Your Logo - Your Style - Your Focus - Your Voice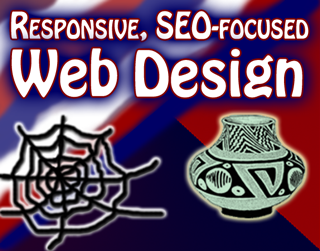 First, we'll help you determine the reason you need a website and it's purpose.
What do you want your website to do for you?
Next, is to decide WHAT kind of website do you want?
What is the primary focus?
Responsive Web Design ("Mobile-Friendly") - Easy to Interact...

After that, we'll talk about content and style, along with keeping your brand and logo consistent across multiple channels.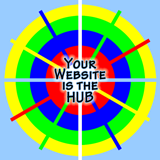 Building your website so that it will look good on any size screen and is easy to use and navigate, as well as getting your pages ranked high in the search engines are essential considerations.
SEO-focused (Search Engine Optimized) Content
The primary purpose of SEO is to get searchers to come visit you, your website!
We'll develop a plan, including determining "your voice", the "tone of voice", and the purpose for each page on your website. Through SEO, we shine a spotlight on the reason why searchers should choose to visit your website.
We'll discuss the name and location for your website. We'll assess your current online presence and integrate it into your website. We can help you determine web update and management needs, as well as plan a strategy to coordinate your web marketing and "traditional advertising" efforts.
100% USA-Based Website Services
All of our servers, files, and personnel live in the USA! If you want to be able to CALL and TALK to someone,
McDel's Get Noticed!

Responsive Web Design
+ SEO-focused Content = Happy Clients!
Custom Website Samples

Plateau Valley Medical Clinic - Collbran, CO & Mesa, CO
Raining Images - Oxnard, CA
Spanky's Dogs - Collbran, CO
The Plateau Valley.com - Collbran, Mesa, & Molina CO
J&M Affordable Auto - Leesburg, FL
Cat Track Outfitters - Collbran, CO
Snowbird Angus - La Salle, CO
Collbran Congregational Church - Collbran, CO
FlowerExtraordinaire.com - Grand Junction, CO
More


View Custom-Designed Website Specials
Put us to work building your custom-designed, responsive, SEO-focused website.
Call today: 970-208-3348
Do People Find YOU When They Search?
Where do your pages rank? Developing custom websites since 1998, McDel Publishing has helped several small businesses create and establish a web presence... and get found in the search engines due to "SEO" = "Search Engine Opitmized" pages.
Search Engine Optimized "SEO" --->> Search Engine Results "SER"
What in the world is SEO?
Search Engine Optimization (SEO) simply means that you've optimized your pages so that the search engine's robots will pull all of the relevant information from your pages (both elements that are visible on the page as it is displayed and from the code in your page source) and Search Engine directive files (such as your sitemap and robots files) so that users will find you. Many other factors are considered as well in producing the Search Engine Results (pages listed when you do a search). But, they're giving a RANK of how relevant each page is, based on their own proprietary formulas.
This is aka
"organic" search

.

If you want better results for your website's pages, contact us!

Many of the custom-designed websites that we've built, redesigned, manage and/or market are returned on the first page of the search engine results (SER) in most search engines for their selected keywords due to our SEO-focused website development.
SEO Specialists - We Produce Results!
McDel's website development team specializes in developing SEO-focused pages in your custom-designed website.

After your website is posted, we can put your website to work for you, utilizing integrated SEO marketing and doing regular updates to your site.

From planning to publishing to maintaining your custom-designed website, we serve you and your interests every step along the way. (The majority of our happy clients are small businesses.)

Free Initial Website Consultation**

Web Site Design, Tune-Ups, SEO, Marketing, Management and/or Online Presence Strategy
Request appointment time your Free Initial Website consultation today! 970-208-3348
**by phone unless you're near Grand Junction CO (or pay travel costs)
+One way to aid your search engine results is to use reciprocal links.
Example: McDel Publishing is a top web design firm in the Grand Junction, Colorado Website Design Services guide on DigitalSpinner.com.